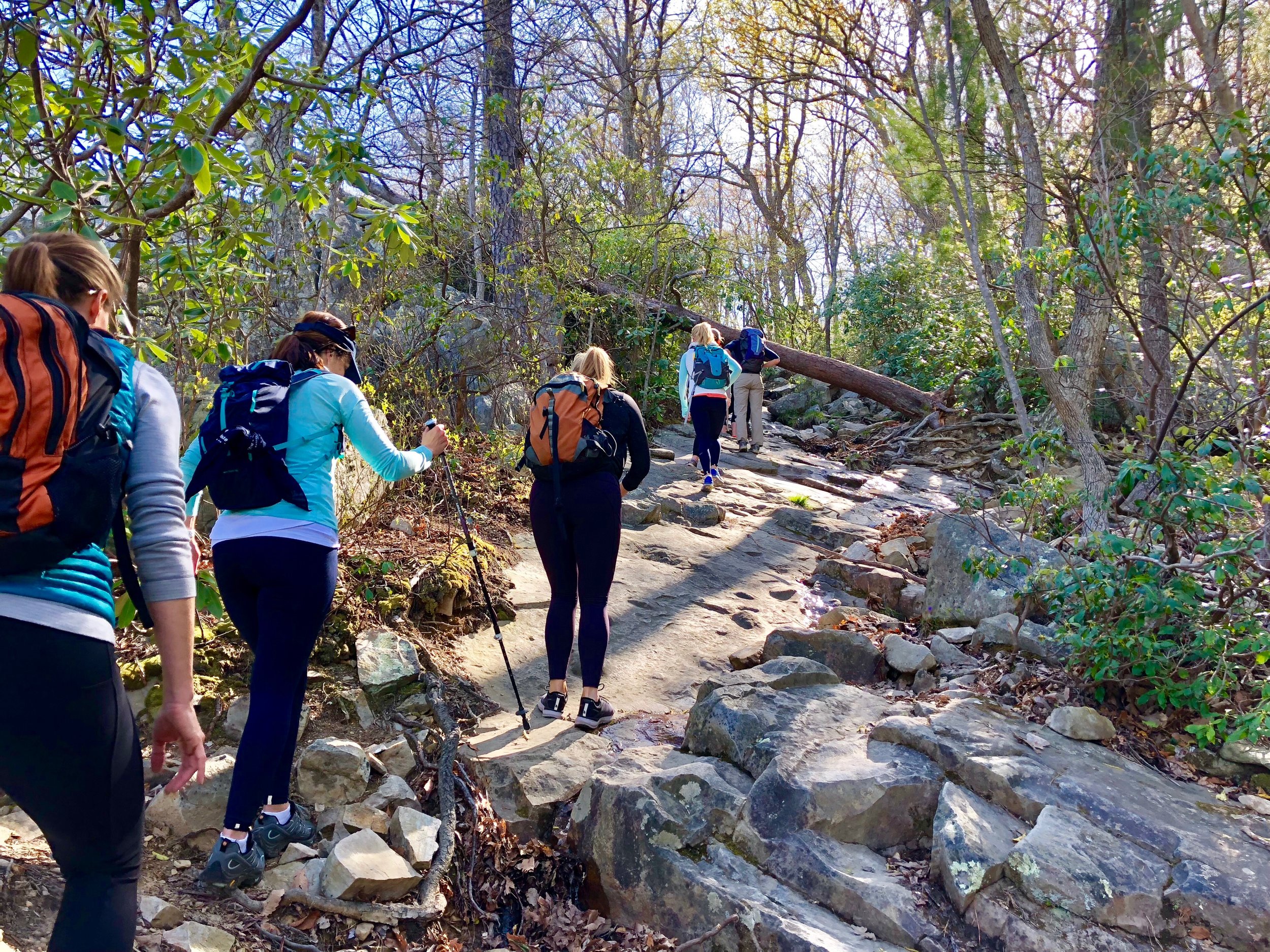 A REJUVENATING GETAWAY
Indulge in an invigorating escape. Venture out of town to the mountains of Virginia for heart pumping hikes, paired with delicious food, yoga and a stay at a luxurious, boutique hotel.
The Elements Lexington hiking reTREAT includes two days of Elements curated and guided hikes; early morning yoga; trail-head shuttle service and all meals including summit-side, gourmet picnics and dinner at a local farm to table restaurant. We'll provide booking information for a 2-night stay at the Georges, a boutique hotel; cost of hotel is not included in the price of the package.
The Elements guides do the heavy lifting, literally — by carrying picnics, maps first aid kits etc, and figuratively by guiding so you can focus on the beauty! Our priority is your safety but rest assured, fun, adventure and food are all gunning for second place!
We offer reTREATs in both Spring and Fall. See what we have scheduled below, and if there's nothing lined up, subscribe to be notified when enrollment opens for future seasons.
$300
Schedule
Sunday
4 – 8:00: Check in at the George's Hotel. Dinner is en route or on your own. Elements is happy to provide Lexington restaurant suggestions as well as gather as a group if arrivals are around dinner-time.
8:45: Introductions and orientation meeting. Fireside at Taps (the bar at The Georges).
Monday
6:30 - 7:20: Pre-hike yoga.
7:00 - 8:30: Breakfast served at the Georges.
8:30: All-day hike with trail-side lunch provided. Hike will be between 6 & 8 miles with lots of ups and downs, great vistas, ancient stone outcroppings and beautiful foliage.
3:00: Enjoy a much deserved cold beer from local brewery.
4:00: Relax, explore Lexington or keep it simple and take a nap until dinner time.
6:00: Hors d'oeuvres and drinks before dinner.
7:00: Three-course dinner.
Sleep well!
Tuesday
6:45: Early morning walking tour of Lexington with Margaret.
7:00 - 9:00: Breakfast served at the Georges.
9:00 - 1:30: Check out of Georges and depart Lexington. Head to George Washington National Park (east of Lexington) for the final Elements guided hike: a spectacular climb flanked by babbling stream and dramatic waterfalls. Trail-side picnic is provided at summit overlook. The trail is well maintained but expect some steep ups and downs. Mileage approximately 4 miles.
Inclusions
This package includes:
Two Elements guided hikes plus Elements Guides (Margaret and assistant)
Elements Welcome TREATS for reTREATers
One pre-hike yoga class
Two gourmet picnic lunches (carried by guides)
Post-hike local brew
Sunset hors d'oeuvres on the terrace of the Georges
Three-course dinner at Taps Restaurant
Transportation to & from first hike
Guided-walk through Lexington
Note: Hotel accommodations for 2 nights at The George's should be reserved and purchased independently (their overnight stays include breakfast). All bar bills and alcohol at cocktails & dinner are to be paid separately.